The Armenian residents of Chambarak was given a salary of Roquefort cheese
In the North of Armenia the residents of Chambarak instead of wages, receive Roquefort cheese. On Tuesday, 6 December, reports "Novosti Armenia".
According to the newspaper, residents of Chambarak, demanding their salaries for several months and the amount accumulated from the delivery of milk, the factory management is "Ashtarak kat" provided Roquefort cheese for the price of 2 thousand AMD (265 rubles) per kilogram.
Now the factory is about 60 tons of cheese, but the problem is it realisateur Avalanna Chambarak
He said that the cheese is not spoiled, it is not to be removed from the premises. "We are looking for market to market, trying to find and communication for export to Russia", — said the mayor.
See also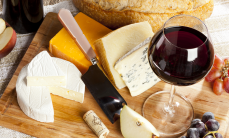 Scientists have figured out how cheese affects the taste of wine
5 Dec travel services Skyscanner noticed record growth in demand of Russians for the new year holidays in Armenia. Experts analyzed the data about the reservation of tickets and hotels for the upcoming winter holidays.
In the end it turned out that the interest towards Armenia has increased by 119 percent compared to the same period in 2015.
In mid-November, the Prime Minister of Armenia Karen Karapetyan expressed hope that soon the Russians will be allowed entry into the country on internal passports. In his opinion, such a decision will benefit the travel industry, especially because Armenia faces a serious task of economic development. He also stressed that he is ready to help foreign colleagues in the solution of various problems.
Roquefort — French cheese variety related to blue cheese.
Comments
comments