SKR detained the representative of the carrier crashed children of KHMAO
Moscow. 5 Dec. INTERFAX.RU — the Investigative Committee of the Russian Federation for Khanty-Mansi Autonomous Okrug (KHMAO) detained the representative of an individual entrepreneur, providing transport services for children team, said in a press-service regional SK.
The representative of the individual businessman detained on suspicion in committing a crime under part 3 of article 238 of the RF criminal code (rendering services not meeting safety requirements).
According to investigators, the bus transporting children, belongs to the individual entrepreneur from Nefteyugansk, at the same time, organization of travel sports teams to competitions in Khanty-Mansiysk has been the representative of individual entrepreneurs and officials of Nefteyugansk SDYUSSHOR "Siberian".
"As the causes of the accident and the death of bus passengers, the investigation is considering the violation of the bus drivers and the truck traffic regulations and provision of services that do not meet the requirements of safety of life and health of passengers, a representative of the individual entrepreneur", the report States.
According to investigators, the bus driver violated section 10.1 of the "Rules of the road", having chosen speed without considering road and weather conditions, which lost control and collided with two trucks and a passenger car heading in the opposite direction.
"In the bus there were 30 people including the driver, 27 minors, members of the team in sports acrobatics from Nefteyugansk, and two chaperones who were returning home from the competition," the report States.
See also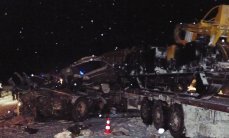 the Number of injured in an accident in KHMAO increased to 34
SC also reported that the investigation had been questioned by the head of the Department of games and gymnastic sports of the Autonomous institution of Khanty-Mansiysk Autonomous district "Ugramegasport", the Chairman of the sports Committee of Nefteyugansk and his Deputy, head of Department of traffic police UGIBDD UMVD Rossii po KHMAO, Director and coach-teacher of sport school "Siberian", as well as eyewitnesses of road accident.
Investigators continue questioning individuals relevant to the case under investigation.
According to the results of the UK will give criminally-a legal assessment to actions of officials of the sports school "Siberian", the establishment "Ugramegasport" and the Department of physical culture and sports of Nefteyugansk and other persons involved in the organization and conduct of the County competitions in acrobatics.
Sunday the victims were 12 people. More than ten of the injured are in critical condition.
Comments
comments