Putin was invited to Japan to relax in the hot springs and drinking sake
The Governor of the southwestern Japanese Prefecture of Yamaguchi admitted that he wants to invite Russian President Vladimir Putin to visit the hot spring to treat his seafood and sake.
About this Tsugumi Muraoka said in an interview with TASS ahead of the meeting between Putin and Japanese Prime Minister Shinzo Abe to be held in Nagato city in Yamaguchi Prefecture on December 15.
See also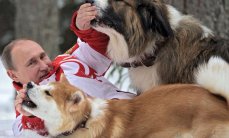 Japan wants to give Putin another dog breed Akita inu
"This is a very joyous event, we perceive it as a great honor — said Muraoka. Is the native place of Prime Minister Shinzo Abe, we are doing everything to prepare for the fact that the leaders of the two countries in a calm and quiet environment to concentrate there on their negotiations."
According to the Governor, this meeting will showcase the attractiveness of the place where it will be held.
"Our Yamaguchi Prefecture is located at the extreme Western end of the Japanese main island of Honshu, it is surrounded on three sides by sea, boasts a rich nature, beautiful scenery", he added.
"I wish the President a little visited the town of Nagato and have a rest there in the hot springs," said Muraoka.
As for the food, he continued, it will be seafood and products of local agriculture.
We would like to offer the President our sake "Yamaguchi". Japan is now growing sales of this drink, we dream to introduce him to the guest from Russianpolish Mariacarpenter Japanese Prefecture of Yamaguchi
The Governor also expressed hope that the summit would be fruitful.
Putin's visit to Japan on December 15-16. At the APEC summit in Lima (Peru), which was held in November, Abe promised to take the Russian President as the honored guest: "in a traditional Japanese hotel with hot spring". "And the next day we moved to Tokyo and discuss economic issues," — said the Prime Minister.
Comments
comments