The Syrian military took quarter Meysar in Aleppo, moving to the Citadel
DAMASCUS, Dec 4 — RIA Novosti, Yevgeny Orel. The Syrian army backed by allied militias have established complete control over the quarter Meysar in the Eastern part of Aleppo, reports on Sunday, the Lebanese TV channel "al-Manar".
According to the channel, after violent clashes, the military managed to completely dislodge from this area remnants of illegal armed groups. In addition, in the quarter Catargi nearby, security forces took several residential complexes, where previously there were outposts of terrorists.
Freeing Meysar and Katerji, government forces will be able to reach the line of contact near the Citadel — an ancient fortress on the hill dominating the town to the height and to divide the historical sector of the metropolis in half.
Video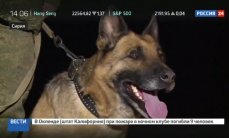 to Clear Aleppo will help Russian dogs
As noted earlier, in an interview with RIA Novosti prominent Syrian analyst, analyst ANAS Mohsen, the control of the army over the Citadel will mean a turning point, the final stage of the military operation in Aleppo.
Earlier on Sunday, the army drove the radicals from the the greater part of the quarter Albania, and also secured about half of the highway, facing the highway to the international airport in Nejrab.
On Saturday on behalf of President Bashar al-Assad's defense Minister, General Fahd Jassem al-freydzh visited the army positions in front of Sheikh said-Nakarin.
On behalf of the head of the state, he commended the "heroism in military operation to liberate the city". The Minister stressed that "the fight against terrorism will continue until restoring security and stability throughout the Arab Republic of".
Meanwhile, armed gangs in Eastern Aleppo have declared their refusal to surrender their weapons and peacefully leave the city. According to the representative of Association "Fastack" Zakaria Malagigi located in Turkey, the radicals don't see the problem of humanitarian corridors for civilians, however, they do not intend to voluntarily leave their firing positions and leave the city.
Comments
comments