Set the origin of the Holy Sepulchre in Jerusalem
Archaeologists have found the origin of the Holy Sepulchre in Jerusalem, where according to the legend, after the crucifixion he was buried, Jesus Christ. This publication reports The Independent.
The contents of the tomb is, according to archaeologist Fredrik Hibert from National Geographic, "a clear proof that the place of worship of modern pilgrims do is the same tomb that the Roman Emperor Constantine I (or rather, his mother — approx. "Of the tape.ru") found in the IV century".
See also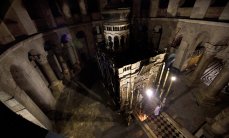 Archeologists opened the tomb of Christ
After archaeologists raised a white marble slab covering the coffin, they found a shelf of limestone, which, probably, lay the body of Jesus Christ. Also in the tomb, scientists found a second marble slab, previously unknown to researchers, which, in their opinion, in the XII century crusaders engraved cross.
Archaeologists found marble tile was grey, not cream-white, and hid under a thick layer of dust. It is the detection of this plate, according to scientists, can be considered a proof that the investigated tomb is the same that was found in the IV century by the mother of Emperor Constantine I.
See also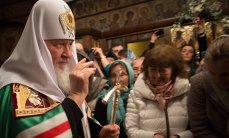 Patriarch Kirill explained why ROC builds so many temples
The sepulchre is enclosed within the Edicule, a chapel dome of yellow-pink marble, which was restored in the years 1809-1810 by the project of the Greek architect, Nicholas Comyn. According to scientists, the opening of the tomb will allow the archaeologists to figure out why St. Helena, which carried out excavations in Jerusalem, decided that this tomb is the burial place of Christ.
Saint Helena (Flavia Julia Helena August) — the mother of Constantine I, who ruled the Roman Empire from 306 to 337 in the year of our era. It is believed that during her pilgrimage, she discovered the Holy Sepulchre, the true Cross and other Christian items of worship.
Comments
comments