On Monday the UN security Council will vote on a resolution on a truce in Aleppo
Moscow. 5 Dec. INTERFAX.RU — the resolution on the ceasefire in the Syrian city of Aleppo, is expected to be discussed Monday at a meeting of the UN security Council, told reporters the diplomats in the world body.
The document States in particular that "all parties to the Syrian conflict should immediately cease any attack in the city of Aleppo for urgent humanitarian access".
Draft resolution submitted by Egypt, New Zealand and Spain for quite a long time was discussed by stakeholders and provides for a truce in Aleppo for seven days. Earlier in the text were offered a truce for 10 days.
See also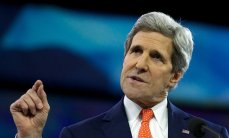 Kerry that a political solution to the conflict in Syria
Observers note that although the authors of the project have certain concessions, reducing the originally proposed term "silence" is not clear, I agree with this Russia, which could use its veto.
The Russian side advocated the truce for 24 hours, it should not concern terrorist groups such as "Jabhat EN-Nusra", the media reported with reference to the opinions of the sources.
At the same time, as pointed out by the media, Canada initiated a UN General Assembly meeting on the humanitarian situation in Syria, but the date of his behavior has not yet been determined.
Comments
comments