The FSB has accused foreign intelligence agencies in the preparation of cyber attacks on Russian banks
After 5 December, was to begin a large-scale cyber attack on the Russian financial system, the targets of which was to become the biggest banks.
This is stated in the message published on the website of the FSB.
Video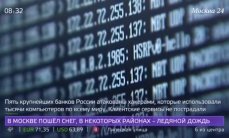 Hackers tried to disrupt the work of Russian banks
"Server power and command centers for cyber-attacks located in the territory of the Netherlands and belong to a Ukrainian hosting company BlazingFast", — stated in the message Department.
As explained in the FSB, the attack was to be accompanied by a mass mailing of SMS-messages and provocative publications in social networks, pedaliruet the topic of the credit crisis and financial system in Russia. In particular, it was planned dissemination of information on bankruptcy and withdrawal of licenses from a number of major banks Federal and regional levels in several dozen Russian cities.
"FSB of Russia carried out the necessary activities to neutralize threats to the economic and information security of the Russian Federation and documentation of the planned action", — stressed in the Department.
Comments
comments