The Duma has ahead of schedule stopped powers of the Deputy from "United Russia" Skorobogatko
Moscow. 2 Dec. INTERFAX.RU — the state Duma on Friday has ahead of schedule stopped powers as a Deputy of one of the richest deputies of Alexander Skorobogatko ("United Russia").
Skorobogatko previously sent a written statement of resignation of Deputy powers from November 21.
"Special explanations of the faction he has not given", — said earlier "Interfax" the first Deputy head of the faction "United Russia" Andrei Isayev, answering the question about the reasons of such decision of the Deputy.
See also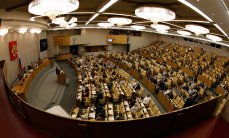 One of the richest MPs prematurely leaves the state Duma
According to the Declaration of assets and incomes of candidates, published on the websites of the CEC and territorial election commissions, 49-year-old Skorobogatko is the fourth Deputy of the state Duma of the seventh convocation on the size of the fortune.
His declared annual income — 745,2 million rubles In Forbes, the Deputy took 40 th place among the richest Russian businessmen (with a fortune of $2.3 billion).
Now Skorobogatko together with Alexander Ponomarenko and businessman Arkady Rotenberg through a Cyprus TPS Real Estate Holdings owned by the company "TPS property". The company manages four shopping and entertainment centers (SEC) in Russia and Ukraine with a total area of 608 000 sq m and two shopping center with a total area of 251 000 sq m will be completed in Moscow.
The same partners through TPS Avia Group belongs to the "Sheremetyevo holding" — from 2016, the controlling shareholder of "Sheremetyevo". Earlier Skorobogatko and Ponomarenko were the owners of the group "Novorossiysk commercial sea port".
Comments
comments