Roskomnadzor issued a warning to The New Times for swearing
Moscow. 2 Dec. INTERFAX.RU — Roskomnadzor issued a warning to the editorial Board and the founder network edition newtimes.ru ("New times") for use of foul language, according to the Agency.
The warning indicates that we are talking about the material "Feelings are at all, and every man must answer for it", November 21, 2016.
In this article the following quote, which uses attributable to a swearing word, it's a letter.
The office requires to edit the material within ten days of receipt of official warnings.
See also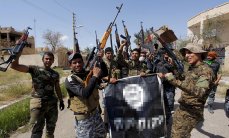 Roskomnadzor officially clarified the use of the name "Islamic state"
1 February 2016, it became known that at the end of January Roskomnadzor issued a warning to the magazine The New Times for the mention of the "Right sector" without specifying that it is prohibited in Russia.
April 12, the world court of Presnensky district fined the publishing 44 thousand rubles for abuse of freedom of mass information.
Under the law, if the media throughout the year will receive more than two warnings from Roskomnadzor, the latter will be able to apply to the court for cancellation of a certificate of registration of mass media.
However, as reported "Interfax" the press-Secretary of Department Vadim Ampelonskiy, rendered on 2 December, the alert can not be considered re, as in the beginning of the year it was made in relation to printed publications, and now — network.
Thus, it is necessary to go to court have a Supervisory body no.
Comments
comments