The court arrested the Executive Director, "Roscosmos" Evdokimova
MOSCOW, 1 Dec — RIA Novosti. Basmanny court of Moscow on Thursday arrested two months the Executive Director of the Russian space Agency for the control of quality and reliability, Vladimir Yevdokimov, accused of fraud at 200 million rubles, the correspondent of RIA Novosti news from the courtroom.
Under article about swindle in especially large size top Manager faces up to 10 years imprisonment. According to investigators, he committed fraud in the amount of not less than 200 million rubles with the property of RSK MiG, while himself guilty Evdokimov thinks.
The investigator said that dancing makes sense to put in jail, because he may be hiding abroad, as the other defendants in the case, especially abroad he has the property.
See also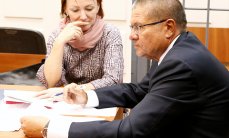 "In especially large size": high-profile corruption scandals in figures
The accused said that he voluntarily testified and cooperated with the investigation. According to him, to go abroad there is no possibility from-for absence of the passport (the document he handed over, because it has access to state secrets). Evdokimov also said that he suffers from a number of diseases, including those associated with vision, and needs treatment.
According to the defense, a top Manager can be placed under home arrest or release on bail in 30 million roubles — the money agreed to give the wife Evdokimova.
Earlier in the framework of this criminal case was arrested the former General Director "daughters" the RSK MiG — company "MiG-Rost" — Alexey Ozerov, Deputy General Director of JSC "Tupolev" Egor Noskov. Partners accused of theft in the early 2000-ies of the complex of buildings on the Khodynka field an area of 22 thousand square meters, which was then resold and for ten years rented.
Comments
comments