Deputy Medina has resigned
Deputy Minister of culture of Russia Grigory Pirumov, resigned. About this informed the head of the Ministry of culture Vladimir Medinsky, transfers "RIA Novosti".
"He filed a statement on their own," said Medina. He noted, "exit paperwork sent to the head of the government." The final decision will accept it.
See also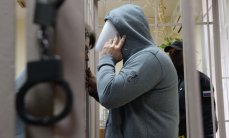 In the criminal case of the Deputy head of the Ministry of culture Pirumov there's a new episode
In March of this year Grigory Pirumov was detained by field investigators of FSB, and then arrested on charges of major embezzlement in the restoration of monuments of history — the Novodevichy monastery, the drama theatre in Pskov, St. John the Baptist monastery, the Museum of cosmonautics in Kaluga and Izborsk fortress. With him on the case also held several entrepreneurs.
In mid-November, Pirumov pleaded guilty of embezzlement of funds. As reported by the investigator in the courtroom, in the matter contained confessions official, reported, "RIA Novosti". According to the investigator, Pirumov pleaded guilty during the additional issue.
The lawyer of Deputy Minister of culture said RBC that it is only the opinion of the investigation, which was made in the courtroom. He noted that "it is not confirmed by any evidence".
Comments
comments