"United Russia" wants to toughen the penalties for bribery
MOSCOW, November 29 — RIA Novosti. The Duma Committee for security and combating corruption will prepare changes in the legislation in "vzyatkoemkoy" areas, including those aimed at preventing bribes to inspectors of traffic police and kickbacks in public procurement, reported the press service of "United Russia" on Tuesday.
"The state Duma Committee on combating corruption prepares changes in the legislation aimed at curbing bribes to inspectors of traffic police and kickbacks in public procurement. In our country the Criminal code establishes responsibility for obtaining and giving the most bribes. But it is not only bribery. According to the rules of the road, crossing a solid line is a gross violation, as a result, statistics show that there are numerous accidents, including with fatal outcomes. In this case, the intruder crossing a solid line, and then offering a bribe for withdrawal from responsibility, doubly violates the law. This problem is a direct agenda of our Committee", — quotes the press service of the party Committee member Anton Getta (EP).
See also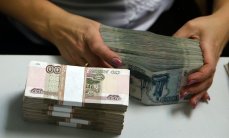 Transparency International named Russia as one of the most corrupt countries
With regard to the fight against kickbacks, according to Guetta, "should be in the same procurement legislation to patch holes that allow these setbacks to give and take." It is, first and foremost, the problem of forming the initial (maximum) contract price in the auction, the customer makes three request for proposals from the market and on their basis forms the starting price.
"The problem is that because of the opacity of this procedure, agreed in advance with the customer gives the contractor an initially inflated commercial deals. Thus, externally competitive procedure is initially carried out at an inflated price. It is necessary to significantly toughen the penalties for embezzlement of public funds, including public procurement," concluded the MP.
Comments
comments