Trunova and Marouani released from the Moscow police apology
Moscow. 30 Nov. INTERFAX.RU Police apologized to the lawyer Igor Trunov and group leader of "Space" Didier Marouani who had been detained before the statement of Philip Kirkorov.
"The police released Trunova and Marouani, at five in the morning they returned home. The police brought them apologize," — told "Interfax" on Wednesday the lawyer Lyudmila Aivar.
See also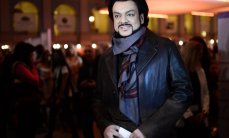 the Lawyer called the amount Trunov demanded Kirkorov
She also said that the police did not initiate criminal case on Kirkorov's statement about extortion.
Meanwhile, she said, Trunov not yet returned the phone and documents.
The lawyer and the musician was arrested in a Bank in Moscow, where, according to Trunova, they came to sign a settlement agreement with Kirkorov, who allegedly agreed to pay 1 million euros Marouani for the misuse of his music.
However, as reported "Interfax" the lawyer Kirkorov Alexander Dobrovinsky, no settlement agreement has not been reached. "A man wrote in a police report about the extortion by Maruani. We participated in investigatory experiment," he said.
Earlier it was reported that Trunov and Marouani was taken to the Basmanny police Department.
Comments
comments