Experts in the field of intelligence, urged Obama to show leniency to Snowden
Moscow. 30 Nov. INTERFAX.RU — a Group of influential experts in the field of exploration of the so-called Commission of the Church turned to Barack Obama with the request to allow the former CIA agent Edward Snowden back to the U.S. and spare him punishment in the form of long-term imprisonment, wrote on Tuesday The Hill.
Commission Church is a group of senators, which was established in 1975 to investigate the legality of the actions of the CIA and the FBI after the Watergate scandal. The letter to the President signed by 15 former members of the Commission. They urged Obama to stop "link (Snowden — if) in Russia, which isn't good for anyone".
Experts have put the letter in-depth report about the consequences that had Snowden's revelations.
It noted the many positive consequences of its activities in the sphere of national security and control over the work of the CIA and the FBI.
The authors of the letter reminded about the results of their own investigation in 70 years, which showed that six US presidents — from Franklin Roosevelt to Richard Nixon abused the capabilities of the intelligence and security services.
See also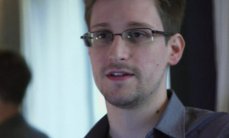 Snowden predicted the growth of "domestic spying" in the US after winning the trump
They believe that Snowden deserves if not a full pardon, then at least condescension, and asked the U.S. justice Department to contact the attorneys of the fugitive agent to negotiate the terms of his return home.
The authors also explain why they turn to Obama, whose terms of office expire in less than two months, not Trump. "As soon as deteriorating relations between Russia and the United States, the risks for all stakeholders increase."
The Guardian adds to this that "proverbial flattery of the" elected President against Vladimir Putin, may soon endanger Snowden's asylum in Russia.
Comments
comments