Erdogan's statements about the overthrow of the Assad regime called "alarming" in Russia
Moscow. 30 Nov. INTERFAX.RU — the Russian foreign Ministry consider it alarming that political statements about the need for the ouster of Syrian President Bashar al-Assad became supported by military force in order to solve this problem.
"We never had any illusions about what goals the US and some US allies in the region in the process of conducting their Syrian policy — let's call it. This goal is not hiding. Repeatedly stated at various levels, including the highest level, in Washington and Ankara that the future of Syria with Assad in these capitals do not see" — said to journalists on Wednesday, Deputy foreign Minister Sergei Ryabkov, answering the question of "Interfax".
See also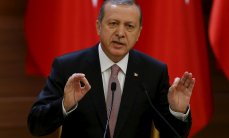 In Erdogan's administration, please do not to understand his words about Assad literally
As reported, Turkish President Recep Tayyip Erdogan said on Tuesday that the Turkish army "forced" was to enter Syria to end the regime of President Bashar al-Assad.
Ryabkov in this regard, notice that from the semantic point of view in this statement there is no element of novelty. "Another thing is that the task of regime change in Damascus are now catching up specific military efforts, there are certain power moves. The operations that can be conducted in this regard, of course, a matter of concern for us", — the diplomat emphasized.
"This kind of "signal" alarming," he added.
Ryabkov drew attention to the fact that Turkey is among the group of countries, the positions of which on the future political structure of Syria at odds with the point of view of Russia on this score.
As stressed by Deputy foreign Minister, all in the last days is happening in Aleppo, "undeniably confirms and fully reflects the absolute satisfaction of our stated goals with regard to Syria" — namely: Russia is fighting terrorism. "We strive, insofar as possible, all measures and all ways to alleviate the humanitarian situation", — said Ryabkov.
"And we, like three years ago, a year ago and at the time of developing the base of the Geneva communique of 30 June 2012, stand firm on the position that the question of who will continue to lead Syria, what this means in practical terms, from the point of view of settling domestic political problems — all this is subject to development and agreement between the Syrians themselves," — said Deputy foreign Minister of the Russian Federation.
He rejected the accusations of those who are trying to somehow distort the actions and goals of the Russian Federation in Syria. "To accuse us that Russia does something that prevents such rotation and movement in this direction, hypocritical, immoral. This can only be done by those people who are trying to hide behind the actions of others doing the same most notorious socio-political engineering in the middle East, which brought a lot of troubles in Libya and Iraq and many other places," — said Ryabkov.
Comments
comments