India will dig the longest river in the world
MOSCOW, November 29 — RIA Novosti. The Indian authorities intend to connect the channels of the major rivers of the country and to create a network for transporting water during droughts and floods, reports New Scientist.
It is planned to dig 30 channels that will connect 14 rivers in North India and 16 in the West, the South and center of the country. The resulting single "river" is twice as long as the Egyptian Nile, its length will be about 12.5 thousand kilometers.
The authors of the project believe that it will allow to overcome droughts and floods, as well as to establish 35 million hectares of arable land. In addition, it is planned to build hydropower plants with a total capacity of 34 thousand megawatts.
See also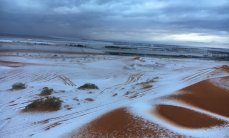 In Saudi Arabia hit the cold and the snow fell
Ecologists and geologists, meanwhile, have expressed fears that artificial changes in water systems can lead to a variety of disasters. According to their estimates, would threaten thousands of hectares of forests and river banks are more likely to undergo erosion.
However, work on the project could begin soon, said the publication of Indian officials.
As expected, the Ministry of environment and forestry of India will soon issue a resolution on the implementation of the pilot phase, which will be connected by river Betwa and the Ken on the North of the country.
Comments
comments