Dogs in the airports to help passengers relieve stress before the flight
Unusual therapists are going to have in the capital's airports. In waiting rooms can receive special dog who will help passengers to relieve stress before departure.
As told the correspondent "RG" the press-Secretary of the international airport of the Sheremetyevo the novel Genis, the four-legged "experts" can become an additional intervention to reduce anxiety prior to flight passengers.
A similar service has appeared in several air terminals in the United States. We are ready to study the experience of American colleagues. And if it would be useful to implement such a service for additional psychological unloading of passengers before departure. And then sometimes the anxiety some passengers try to take alcohol during the flight, often behave very aggressively, said Genis.
He stressed that the airport management is ready to consider offers dog training centers that can provide dogs with necessary training.
Unusual four-legged therapists are already working in seven U.S. airports: Washington, Chicago, Denver, Cleveland, Los Angeles, Newark and Houston. There passengers help to cope with stress specially trained dogs. Mostly greyhounds, English bulldogs and various Terriers. Animals with handlers roam the terminals and those of the passengers who need peace of mind, you can approach and pet the dog, getting rid of anxiety.
Best on the role of an unusual therapist fit friendly retrievers and Labradors.
In Domodedovo psychological unloading is already partially carried out by a specially trained dog.
In a press-service of the airport said that today employs more than 20 purebred "employees", including Belgian Malinois, German shepherd and special favorites of all passengers of American Cocker spaniels.
"Animals are very friendly and always happy to chat with visitors of the airport", — told in the press service of Domodedovo.
See also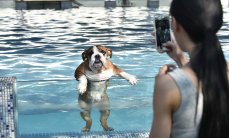 the Dog was able to remember everything that made their owners
Their colleagues from a press-services of airport Vnukovo rather dryly said that the airport management has already implemented a sufficient number of different services for emotional unloading passengers. Therefore, the introduction of additional measures like four-legged therapists do not see the point.
As told the correspondent "RG" in the State scientific center of social and forensic psychiatry named after V. P. Serbsky, the animals contribute to stress reduction and mood enhancement. This especially occurs in direct communication with dolphins and horses.
If you just Pat them on the head of a dog, the body will begin to produce so-called love hormone — oxytocin.
In just a few minutes of communication with the animal the person calms down. Best fit retrievers and Labradors.
See also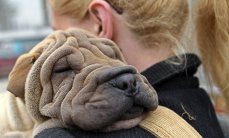 Scientists: Dogs having their owners
However, according to the Executive Director of the Agency "Avia Port" Oleg Panteleeva, which he expressed channel m24.ru when applying these "psychologists" can be difficult.
To organize airport therapy with dogs is difficult. Theoretically, this role can go up and those dogs that are used for therapy. It will be difficult to place them correctly. In the terminals there are areas of catering where the animals are undesirable. Someone may be afraid of dogs, some of the passengers may be allergic to wool. You need to allocate for "abacteria" separate room, he said.
Comments
comments