Source: General FSO Lopyreva charged with receiving a bribe
The criminal case against the General is due to the financial and economic activities.
MOSCOW, November 25. /TASS/. The detainee to General FSO of Russia Gennady Lopyreva charged with receiving very large bribes. About this TASS said a source familiar with the situation.
"Lopyreva was charged under part 6 St. 290 criminal code ("the Testament of a bribe in especially large size"). Charged related to the financial and economic activity and is not related to the sale of land and the construction of Olympic facilities in Sochi", — said the Agency interlocutor.
He could not specify the exact amount of the bribe, noting that the question of the sum more than 1 million rubles.See also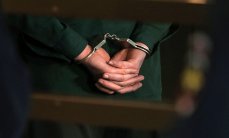 General FSO was arrested after an internal check
In turn, the lawyer of Board "Zakaluzny, Almashev and partners" Ruslan Zakaluzny said that today the consequence intends to petition for a measure of restraint against his client. "Material to be considered today in Moscow garrison military court", — he said.
Zakaluzny noted that he could not comment on the charges brought against Lopyreva. "It is secrecy of the investigation, under what article he was charged with, I can not say. I can only say that Lopyrev not guilty", he concluded.
As reported in the Center for relations with media and public relations FSO of Russia, General Lopyrev was arrested on suspicion of serious violations of legislation identified during the internal audit, the FSO conducted in departments in the North Caucasus. FSO is not yet clarified which violations committed by the General.
Comments
comments