The Kremlin said on reaching the bottom in relations with the United States
Dmitry Peskov, agreed with trump that the term "reboot" have compromised themselves, and expressed hope for the normalization of the situation.
Moscow. 23 Nov. INTERFAX.RU — relations with the US are currently "at the bottom", and they are unlikely to spoil, but the main thing — desire of the American side to normalize, said press Secretary of the President Dmitry Peskov.
Now the level of our bilateral relations leaves much to be desired. Hardly something to mess around in these respects, they are right at the bottom. But, of course, we hope that dialogue will be resumed and will begin a difficult and clear that it is not a quick process output relations in a constructive ruslamere Pescovitz Secretary of the President Hsitate also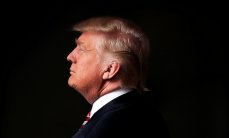 NYT: trump would get along with Putin
Commenting on the statement of the elected President of the United States Donald trump that he is ready to establish relations with Russia, but does not support the idea of a reboot, Peskov said, "as for the word "reset" of relations, perhaps, really here with the elected President can agree — indeed compromised themselves".
"The consequences of this reboot is really not those that we would like to see," said the press Secretary of the Russian President.
However, he noted that "the term in this case has no value".
"The main thing is a willingness and a demonstration of readiness for normalization of relations", — said Peskov.
He recalled that the Russian President repeatedly spoke about the desire of the Russian Federation "to build a good and mutually beneficial and equal relations with the United States." "In this case, the President noted the expectation of reciprocity from Washington," said Sands.
Comments
comments