Obama last President pardoned a Turkey
WASHINGTON, November 23 — RIA Novosti, Dmitry Zlatarev. US President Barack Obama on Wednesday for the last time as head of the state fulfilled a long-standing national tradition of pardoning a Turkey on the eve of thanksgiving.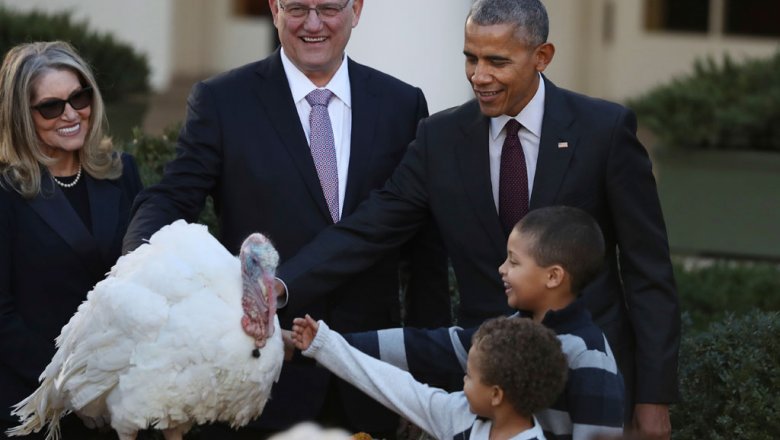 The ceremony in the Rose garden of the White house, which was attended by several dozen people, lasted less than ten minutes. Obama went to the crowd, with two boys. Later the President explained that his daughters Malia and Sasha are unable to attend the ceremony, so it involves his nephews Austin and Aaron Robinson. According to the head of the state, "they are not as cynical about Washington as Malia and Sasha".
During a brief speech, Obama several times passed with joking tones to serious and back again. He in particular recalled that "for generations American presidents followed two traditions — the proclamation of thanksgiving and pardon those who hope to get a second chance in life." "This week we did both," he said, referring to the pardon of a large number convicted of minor crimes.
"This year we have for which to give thanks," said the American leader. In this regard, he mentioned the creation of new jobs, increasing employment, economic recovery.
"No way I'm cutting this habit cold turkey." —@POTUS on continuing the #WHTurkeyPardon https://t.co/fspxmfkFKb
— The White House (@WhiteHouse) November 23, 2016
During the presidential speech, the Turkey is named Tot (Tot, Tot) is important walked across the lawn. Then she was placed on a specially prepared podium, where Obama read over it, "permitting vows." There was also a nearby second Turkey — Tator (Tator, Potato), which, as expressed by Obama, has been nominated as "Vice-Turkey if He refused to carry out their duties".
Both turkeys were grown on a farm in Iowa. The names they came up with local schoolchildren. And now the main hero of the occasion will go into "honorable retirement" in the Technological University of Virginia, where they would be looked after by veterinarians and students.
Thanksgiving day in USA is celebrated on the fourth Thursday of November. In 2016 it falls on November 24. In the proclamation on this occasion, Obama called for "Americans to come together and give thanks for everything that we got last year."
The tradition of thanksgiving and turkeys for the holiday table dates back to 1621 when the first settlers invited the Indians who lived on the territory of present-day Massachusetts, together to praise God for the harvest. Those brought unprecedented settlers the bird, which was later named Turkey. Since then, she has become an integral part of the festive table. Thanksgiving in the United States received the status of a national holiday in 1863 under President Lincoln.
Comments
comments