Landed on the frost child of the conductor in Yekaterinburg opened a case
The investigative Committee (IC) in the Sverdlovsk region opened a criminal case against the conductor, who landed nine-year-old girl from a bus in 30-degree weather because she had no ticket for travel. About it reported in a press-Department service.
According to the SC, the case was brought on signs of the crime provided by article 238 of the RF criminal code (rendering services not meeting requirements of safety of life and health of consumers). At the moment investigators find out the circumstances of the incident.
Live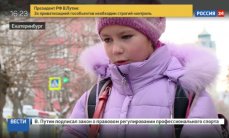 In Ekaterinburg the conductor kicked the child off the bus for a 30-degree frost
The Ministry said that "according to media publications," the representatives of the shipping company has not taken any measures to ensure that the girl was not alone "in dangerous situations."
"For example, was not caused by parents or the police, which would help to establish and contact the girl's parents, and so on", — stated in the SC.
The investigation will be identified and interviewed additional participants of the incident, and investigators will require documentation guiding the implementation of the company of transportation services, said the Agency.
The incident occurred on 10 November, reported local portal E1.ru. According to the mother of the girl, the child went home on the 18th bus. The conductor asked the schoolgirl ticket, but he was absent. Travel it, "apparently, somewhere along the road planted," said the mother. The money for the trip the child is also not there. The conductor dropped off the girl off the bus for not paying fare and "made a point to come out", resulted in the publication the words of the mother of the child. Because of the incident, the girl went to the house three stops at 30-degree frost.
The woman filed a complaint against the carrier — Municipal Association of bus companies (MOAP). A complaint against the conductor filed another passenger of the bus.
Comments
comments