The Prime Minister: there is no guarantee that trump "comfortable" President
Donald trump is elected as the 45th President of the United States, he defeated in the election of Democrat Hillary Clinton that Russia is perceived positively.
MOSCOW, Nov 21 — RIA Novosti. Moscow and Washington have serious work to do to restore confidence in the fight against terrorism, but there is no guarantee that in this sense, won the elections in the United States Donald trump is for the Russian Federation "comfortable" the President said in an interview with RIA Novosti Director of the Department of foreign Affairs of the Russian Federation on the issues of new challenges and threats Ilya Rogachev.
See also
do Not panic: how in the world took the victory trump
He recalled that the anti-terror "was and remains one of the priority areas of our cooperation with the Americans." Although, according to him, this does not mean that the parties "can be able to solve all the problems," but "maintaining dialogue on this issue between the world's leading "anti-terrorism" powers, such as Russia and the United States, is absolutely necessary".
However, the Russian diplomat noted that "a prolonged period of significant cooling of bilateral relations could not affect that particular direction, as he can not to end overnight".
"No matter how the events unfolded after the change of administration in our countries have to make a serious effort to restore confidence and to finding compromise solutions to controversial issues in counterterrorism," said Rogachev.
However, Moscow is not sure that "in this sense, the tramp for us — obviously "comfortable" the American President", the diplomat said.
"Another thing is that with his election appeared cautious expectations adjustment anti-Russian course of the current administration, which brought bilateral relations to the lowest point. But not so simple", — said the Director of the Department of foreign Affairs of the Russian Federation.
He explained that "to judge the approaches of the elected President to work together with Russia to combat terrorism and extremism, including in relation to the conflict in Syria, we still can only according to his statements".
"Some of them, in particular, the readiness for broad international cooperation, including with Russia, against ISIS, we welcome. But as words will be compared with the cases matters," said Rogachev.
Help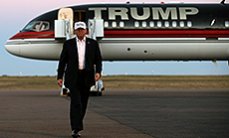 Donald Trump. For what it's like and nenavidyat most queer President of America.
Comments
comments