The court arrested two more persons involved in the preparation of sabotage in the Crimea
The Kiev district court of Simferopol arrested two more defendants in the case of the preparation according to the instructions of the Ministry of defense of Ukraine of diversions on objects of infrastructure of the Crimea. About it "RIA Novosti" reported in the court.
Arrest Stogniy and Sable was made last week, the court session was held behind closed doors and became aware of it only on Monday, November 21, the Agency said.
See also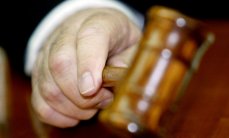 the Court in Sevastopol arrested three alleged Ukrainian saboteurs
On 10 November, the FSB announced the detention in the Sevastopol members of subversive groups of the Ministry of defense of Ukraine, which, according to intelligence agencies, was preparing acts of sabotage on military installations in the Crimea. On the same day, three suspects were arrested by the Lenin court of Sevastopol.
The Kyiv court of Simferopol noted that Stogniy and Shabliy, along with three previously arrested are members of one of the subversive group operating in Sevastopol.
The Ukrainian defense Ministry has denied the existence in the Crimea and sabotage and reconnaissance groups of the Department.
On 14 November, the FSB was shown by the Russian news agencies a video of the interrogation one of the detainees Dmitry Sterlikova recognized that gathering information to commit sabotage in the Crimea. The man also said that the legalization on the Peninsula, he went to work in the division of the Russian Ministry of defence as a civilian.
Comments
comments