Protection Ulyukayev appealed against his house arrest
Moscow. 18 Nov. INTERFAX.RU the Defense appealed the house arrest of the former Minister of economic development of Russia Alexei Ulyukayev, who is accused of receiving bribes for a positive evaluation earlier he headed Department of the purchase by Rosneft of 50% shares of "Bashneft".
According to him, the defense asked the appellate court — the Moscow city court to cancel the decision on house arrest of the former Minister and elect him a more lenient preventive measure.
See also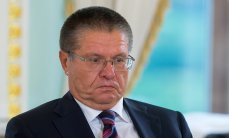 Ex-Minister Ulyukayev wearing an electronic tracking bracelet
In the night of Tuesday November 15, TFR reported on the criminal case against Alexei Ulyukayev. He was charged with extortion and receiving a bribe of $2 million According to investigators, the money, a senior official has received for the Ministry of economic development issued a positive evaluation, which allowed Rosneft to acquire state-owned shares of the company "Bashneft".
On Tuesday evening, the Basmanny court of Moscow has sent officials under house arrest until mid-January.
The President of Russia Vladimir Putin dismissed the Minister of economic development from his post in connection with loss of trust. Temporary performance of duties of the head of Ministry of economic development entrusted to the Deputy Minister Evgeny Elin.
Comments
comments