Volodin gave his assessment to the adopted state budget
MOSCOW, November 18 — RIA Novosti. The Federal budget was formed in difficult economic conditions, in the end managed to reach the optimum, but hard draft budget, the speaker of the state Duma Vyacheslav Volodin.
"The budget was formed in a rather difficult economic conditions, and his discussion was not easy. To solve all the questions were difficult, had to prioritize. However, in the end we managed to remove most differences, and to reach the optimum, but a tight budget", — said Volodin, whose words are quoted in the message on the official website of the state Duma.
"Among the priorities of the document — the execution of all social obligations of the state, "may decrees" of the President, and support key industries, agriculture and business", — said the MP.
He recalled that the budget for the next three years laid the 11 priority projects "aimed at addressing the most pressing systemic challenges facing the state." It support for small business, export, mono, mortgages, road infrastructure, education, health and other important areas, said Volodin.
See also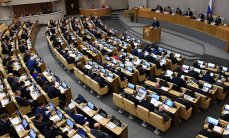 the state Duma adopted in the first reading the draft Federal budget for 2017-2019
In the near future the state Duma Committee on budget and taxes, together with the Ministry of Finance of the Russian Federation will consider increasing expenditures on certain articles. We are talking about the provision of rehabilitation and support their organizations, the restoration of the monument "Motherland", the development of physical culture and sports in rural areas, support for regional media and other projects.
"Considerable attention is paid to the development of city parks and support theatres and houses of culture in small towns. There are funds for continuation of the program of complex improvement of yard areas", — said the President of the chamber.
On Friday, the lower house of Parliament adopted in first reading the draft Federal budget for 2017 and the planning period of 2018 and 2019. The main financial document of the country was presented to the deputies at the plenary meeting, Finance Minister Anton Siluanov and Chairman of the accounts chamber of the Russian Federation Tatyana Golikova.
For the adoption of the document voted 334 deputies, against — 100. Previously, their intention to vote against the bill were expressed by the deputies of the LDPR, CPRF and "Fair Russia", supported the project of the budget traditionally, the faction of the parliamentary majority "United Russia".
During the discussion, Volodin provided is not included in any of the factions, two deputies odnomandatniki Rifat Shaikhutdinov and Alexei Zhuravlev right to ask questions to the Minister of Finance. However, they this opportunity is not used.
Comments
comments