A series of new tremors reported in Italy
Data on victims and destructions did not arrive.
MOSCOW, November 1. /TASS/. A series of aftershocks recorded Tuesday morning in Central Italy, the magnitude of the last one was 4.7 and the previous magnitude was 3.6 and 3.2 and 3.1. This was reported by the European-Mediterranean seismological centre.
See also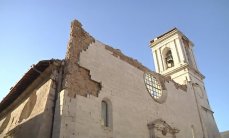 the Italian Authorities reported dozens wounded in the earthquake
The first three epicenter of the quake was about 60 km Southeast of Perugia, the epicenter of the latest is 52 km South-West of Ancona. Their foci lies at a depth of 8 to 10 km.
Information about victims or destructions as a result of aftershocks were reported.
An earthquake of magnitude 6.5 occurred on Sunday morning in the Central part of Italy is affected by the disaster 24 August and 26 October district. An earthquake and some aftershocks are clearly felt in Rome and in many regions from North to South.
Comments
comments